No Spill 1450 5-Gallon Poly Gas Can (CARB Compliant)
No Spill 1450 5-Gallon Poly Gas Can (CARB Compliant)
Expand all tabs
Collapse into tabs
The 1450 includes:
1x No-Spill 1450 5-Gallon Poly Gas Can (CARB Compliant)
Highlights:
Thumb button control allows for easy and precise pouring
Designed with a 7/8-inch funnel spout that will allow you to fill even the small equipment
Comes an attached dust cover to keep your spout clean
Features an integrated 20 mesh stainless steel screen
Gas can is both CARB and EPA compliant
Most spills occur tipping a normal can to get the spout into the tank opening before the liquid comes out, or removing the spout from the target vessel before overflowing. The No-Spill spout is fully user controlled so you tip the can vertical, insert the spout into the vessel opening, then press the button to begin and control pouring. To stop pouring simply release the button. Practically eliminates spills and overflows. The only Spill-Proof spout with thumb button control that does not push down on your tank's filler neck to pour. More control, fewer tip-overs of your small equipment. The fastest pouring Spill-Proof nozzle available. At up to 3 gal/min, compare to other brands at 1.5 to 2.0 gal/min. Meets California Air Resources Board requirements for sale or use in California. Autostop removable nozzle, single opening for filling & pouring, treated can body for low permeation. Rear handle for pouring makes it the most user friendly CARB compliant 5 gallon can available. 6-inch Flex Spout Extension (sold separately) allows filling of on-road vehicles, boats and many other hard to reach tank openings. No-Spill Gasoline cans are tested and certified to ASTM F-85299 Standard Specification for Portable Gasoline Containers for Consumer Use and our Diesel & Kerosene cans are tested and certified to ASTM F-97602 Standard Specification for Portable Kerosene and Diesel Containers for Consumer Use. 5 Gallon CARB cans feature rear handle for well balanced pouring. Puts the can into the perfect position for pressing the thumb button.
Why No Spill?
The Nozzle:

The button makes it easy.
Our slogan is true. Simply press the button to pour. It's intuitive. This is the easiest gas can to use on the market - it's not even close. A gas can should be easy to use.
Don't overfill with Auto Stop.
We used simple physics to develop a nozzle that automatically stops the fuel flow when the target tank is full. Just hold the button down. Simple.
Don't wait so long.
Our patented nozzles flow up to twice as fast as other nozzles. No gurgling or interrupted flow. When filling up large equipment how long do you want to hold a 40 lb. 5 gallon tank?
Don't push around your equipment.
We have the only can that lets you pour gas without touching the target tank. All other current nozzles require pushing against the tank to open their valve. This force can move or roll your equipment. Not good. Remember our valve is controlled by a button.
The Can:

See what you have.
Double wide view stripes on both the front and back of our smaller cans. Now you know your fuel level from across the yard or garage. No guessing and no extra trips to the gas pump. Every gas can should have view stripes. No-Spill is the only can with them.
Lasting power.
Our cans have the thickest skins. A robust 70-100% thicker than most cans. This costs much more to make, but you get what you pay for.
Comfortable.
Three handles on each can. Finger handles on each nozzle, and a finger slot on the bottom of each can (rear handle on the 5 gal.). Your hands share the weight and are in a comfortable position to pour with accuracy. Our design makes it easier to hold. The top handle is for carrying.
Tech Specs:
Brand: No Spill
Model: 1450
MPN: 1450
UPC: 759176014501
Type: Gas Can
Gallons: 5
Package Qty.: 1
No Spill Jill - Short Demonstration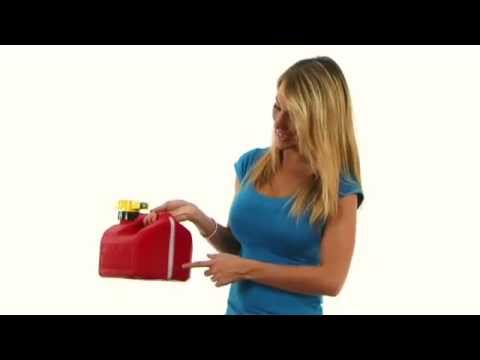 Video will open in a new window
No Spill Jill - Full Demonstration
Video will open in a new window
Overall Rating for
No Spill 1450 5-Gallon Poly Gas Can (CARB Compliant)
RELATED ITEMS
Check out the rest of our...
Our Customers Are Saying...