Bosch Tools AG40-11P 11 Amp 4-1/2" Paddle Switch Angle Grinder
Bosch Tools AG40-11P 11 Amp 4-1/2" Paddle Switch Angle Grinder
Expand all tabs
Collapse into tabs
The AG40-11P includes:
1x Bosch AG40-11P 4-1/2" Paddle Switch Angle Grinder
1x Backing Flange
1x Lock Nut
1x Spanner Wrench
1x Grinding Guard
1x Vibration Control Side Handle
Highlights:
Patented multi-grip paddle switch - allows multiple grip positions for optimal comfort and control
High-performance 11 amp 11,500 RPM motor - power and performance demanded by a professional
Electronic clutch - shuts down the motor if the wheel gets into a sudden bind situation
Overload protection - shuts off tool to reduce over heating and motor damage
Constant Response circuitry - maintains constant speed under load
Soft start - reduces start-up torque to protect motor
Restart protection - protects against an automatic restart after a power interruption
Two-position vibration control handle - reduces vibration, providing uncompromising user comfort
The Bosch AG40-11P 4-1/2 In. angle grinder with a patented paddle switch design, features a new 11 Amp motor design with direct motor cooling and more air vents. This feature reduces hand blockage to extend tool life and provide higher overload capabilities to prevent overheating. Results from independent testing revealed that Bosch grinders outlast the competition to deliver the best tool lifetime in the market- up to 9 times more life than competitors. Improved carbon brushes offer more than double the lifetime of previous brushes, which means less downtime for maintenance. Additional features include a new patented multi-grip paddle switch and textured housing to provide increased grip options for better ergonomics and tool control. The first-to-the-market multi-grip paddle switch can now be operated in the front, middle and rear — as opposed to only in the rear on old models — allowing users to hold the grinder in any position.
Features:
Directed air flow - diverts dust away from switch and vital components to extend tool life
Service Minder brushes - to eliminates guesswork, stops tool when preventative maintenance is required
Gear housing rotates 90 degrees - for better ergonomics and control in cutting applications
Ergonomic housing - increases comfort and control for extended usage
Epoxy coated field windings - provides ultimate protection against abrasive dust and metal debris
Toolless adjustable guard - quick guard installation and adjustments
Tech Specs:
Brand: Bosch
Model: AG40-11P
MPN: AG40-11P
UPC: 000346453638
Type: Grinder
Amperage: 11.0
Cord Length: 8 Ft.
Height: 6.125"
Length: 12.5"
No Load RPM: 11,500
Rating: 120V
Spindle Thread: 5/8 -11 UNC
Voltage: 120V
Weight: 5.1lb
Wheel Diameter: 4-1/2"
Width: 5.125"
Package Qty.: 1
Bosch AG40-11P 4-1/2" High-Performance Angle Grinder with Paddle Switch Product Video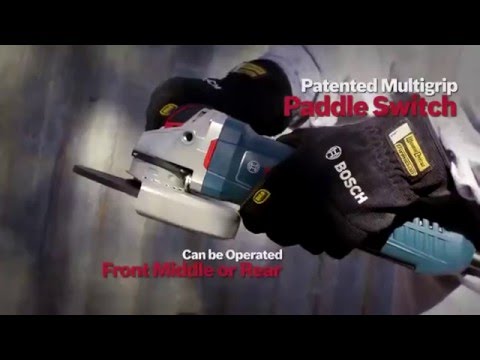 Video will open in a new window
Check out the rest of our...
Our Customers Are Saying...