Makita HM1812X3 AVT Breaker Hammer w/ 1-1/8" Hex, 4pc Steel Set + Cart OB
Makita HM1812X3 AVT Breaker Hammer w/ 1-1/8" Hex, 4pc Steel Set + Cart OB
Expand all tabs
Collapse into tabs
The HM1812X3 includes:
1x Makita HM1812 AVT Breaker Hammer
1x 783203-8 Hex Wrench
1x T-02892 Premium Hammer Cart
2x D-21369 1-1/8" X 20-1/2" Flat Chisel, 1-1/8" Hex
2x B-45559 16" Self Sharpening Bull Point, 1-1/8" Hex
Highlights:
Hits Like Air Without the Vibration
Efficient 15 AMP motor with improved hammer mechanism delivers 53.9 ft.lbs./72.8 joules of impact energy to handle the most demanding applications
Advanced AVT is a synchronized, three-component system that more effectively reduces vibration in varying conditions resulting in a low 6.5m/s2
Advanced AVT provides a mechanical counterbalance system which greatly reduces vibration
Advanced AVT provides a vibration absorbing housing
Soft start suppresses start-up reaction for more control and better accuracy
No hammering when idling function automatically reduces the speed of the motor when not in use which helps increase tool life and performance
The new Makita HM1812 70 lb. AVT Breaker Hammer is engineered to hit like an air hammer, but with less noise and vibration. It has a powerful 15 AMP motor that delivers a full 53.9 ft.lbs. (73.8 Joules) of impact energy, so contractors get hard-hitting performance. Users also benefit from less noise and lower vibration than an air hammer and zero hassle with an air hose and compressor. The HM1812 features the latest Advanced AVT Technology, a synchronized three-component system that more effectively reduces vibration. The internal mechanical counterbalance system, vibration-absorbing housing and fixed movement handles are engineered for significantly less vibration during concrete breaking applications.
WARNING: California's Proposition 65
OP or Open Box?
These are Open Box items. All contents are brand new from the factory. The factory packaging may be damaged but otherwise these are brand new tools with brand new tool warranties.
"Open Box" Items originate for multiple reasons.
Sometimes during shipment from the manufacturer item packaging gets damaged but the contents are factory new
Sometimes in our own Distribution Center (DC) mis-handling occurs and damage to the packaging occurs. Especially in the cold months. Plastic wrapping gets cold, brittle and breaks away.
Within our DC, during "front line" replenishment from overstock locations, damage to packaging occurs and tags get pulled off.
Upon receipt of items into our distribution center, items are routinely opened to verify certain info to be the best they can at item web pages. For instance:

Contents of the package (What's in the box)
Description of items and contents
Specifications of items and contents
Images of items and contents

Also in order to maintain the highest levels of service to you the customer, we do periodic random checks of items for all of the above.
Note:
Open box items are not necessarily always in a "box". They also include items that are wrapped, bagged, etc. and who's packing has been opened.
Open box items have limited quantities on hand and we can't guarantee their availability. We sell these items on a first come, first order basis.
Generally we have quantity on hand if you see an order button. But because of website limitations we are not able to update these item pages up to the minute. You will be notified as soon as we download your order if we do not have availability.
Features:
L.E.D. power light indicates switch failure or cord damage
L.E.D. service light notifies the user approximately 8 hours before brushes need to be replaced
Automatic brush cut-off protects commutator from damage for longer tool life
Cylindrical tool holder allows for the tool holder to be re-positioned should the original bolts and bolt holes become damaged
Recessed lifting handles provide more convenience
Breaker includes a 16.4 ft. power cord and integrated cord guide which positions the power cord away from working area
Tech Specs:
Brand: Makita
Model: HM1812X3
MPN: HM1812X3
UPC: 088381801799
Type: Breaker Hammer
Blows Per Minute : 870 BPM
Impact Energy (ft.lbs.) : 53.9 ft.lbs.
Impact Energy (Joules) : 72.8 J
Amperage: 15 amps
Voltage: 120 volts
Noise Level: 106 dB
Vibration (m/s²): 6.5
Bit Type: 1-1/8" Hex
Cord Length (ft): 16.4'
Overall Length: 33-1/4"
Net Weight : 69.1 lbs.
Shipping Weight : 72.6 lbs.
Package Qty.: 1
Makita HM1812X3 AVT Breaker Hammer w/ 1-1/8" Hex, 4pc Steel Set + Cart Product Video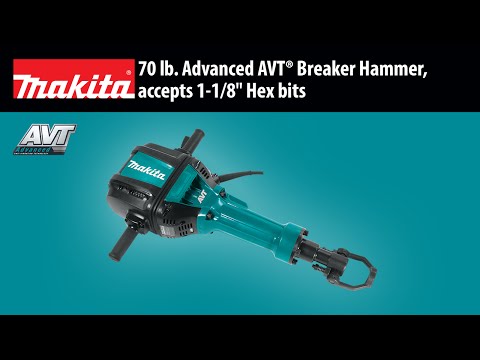 Video will open in a new window
Check out the rest of our...
Our Customers Are Saying...