Makita SP6000J1 6-1/2" Plunge Cut Circular Saw + 55" Track Kit
Makita SP6000J1 6-1/2" Plunge Cut Circular Saw + 55" Track Kit
Expand all tabs
Collapse into tabs
The SP6000J1 includes:
1x B-07353 6-1/2" 48T Carbide-Tipped Saw Blade
1x 783203-8 Hex Wrench
1x 194368-5 55" Guide Rail
1x Interlocking Tool Case
Highlights:
Comes with 55" guide rail
Powerful 12.0 AMP motor for optimum performance in a wide variety of materials
Precision accurate cutting delivers a splinter-free mirror finish
Electronic speed control maintains constant speed under load for smooth cutting
Variable speed control dial (2,000-5,200 RPM) enables user to match the speed to the
Built-in current limiter helps prevent motor burnout
Soft start feature for smooth start-ups
Large cutting capacity (2-3/16" at 90° and 1-9/16" at 45°)
The Makita 6-1/2 in. Plunge Cut Circular Saw and 55 in. Guide Rail work together to produce accurate cuts with minimal tear-out. The saw combines a powerful 12-Amp motor and a large cutting capacity with magnesium components for less weight (only 9.7 lbs). Electronic speed control maintains constant speed under load for smooth handling and a splinter-free, mirror finish. The saw delivers accurate cutting as the position of the blade enters the material on the same cutting line, whether cutting straight or bevel.
Features:
Easy-to-set depth adjustment with large scale
Smooth and convenient plunge release lever for operator comfort
Bevel capability (-1 to 48°) with positive stops at 22.5° and 45°
Magnesium components deliver a well balanced and lightweight saw
Dual front and rear bevel supports provide additional rigidity for prec cuts
Precise bevel cutting as the position of the blade enters the materia whether cutting straight or bevel
Close to the wall cutting (11/16") for expanded cutting applications
Tech Specs:
Brand: Makita
Model: SP6000J1
MPN: SP6000J1
UPC: 088381650823
Type: Saw Kit
Blade Diameter: 6-1/2"
Arbor: 20mm (13/16")
Maximum Cutting Capacity at 90 degrees: 2-3/16"
Maximum Cutting Capacity at 45 degrees: 1-9/16"
No Load Speed: 2,000 - 5,200 RPM
Watts Out: 1,300
Amperage: 12 Amps
Length: 13-3/8"
Weight: 9.1 lbs
Shipping Weight: 16.2 lbs
Package Qty.: 1
Makita SP6000J1 6-1/2" Plunge Cut Circular Saw + 55" Track Kit Product Video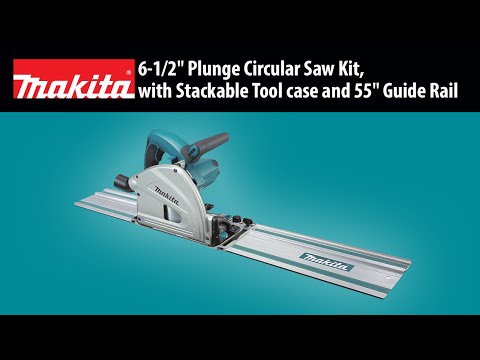 Video will open in a new window
Makita Celebrates 100 Years of Innovation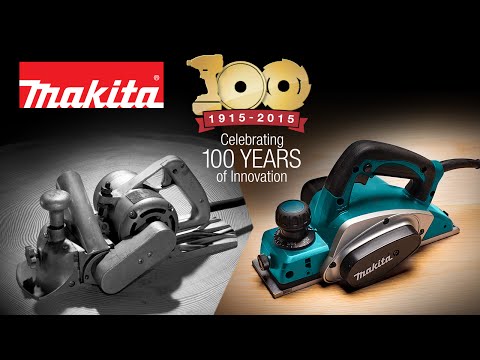 Video will open in a new window
100% Recommend this product
(
6
of 6 responses)
By mike fedor
stratford,ct
November 23, 2016
track saw- Makita SP6000J1
saw works great. i had a cabinet job recently and the saw was indispensable. saved tons of time
By Roboray
Las Vegas
July 12, 2016
Equals or surpasses all rivals
I have used the Festool track saw and it was great, however the Makita does the same job for nearly half the price, don't trust me read other reviews. This saw is superb, I wish the blade was on the other side like a hypoid/wormdrive however I am getting used to the standard layout. Cuts extremely cleanly in plywood, superb.
Pros
High quality, like most Makita products. Easy to use and a value.
Cons
The case is kind of weak, That is not why I purchased the tool though.
By Carpenter Mike
Seattle
May 20, 2016
Great saw, but don't like the rail
Great saw, feels and operates very similarly to the festool. Only problem is the rail is not quite perfectly straight, though good enough for my needs since its only off by 1/32- over 4ft. Don't buy the long makita rails, they're notoriously not straight, I use a 106 & festool rail with this saw and its fits fine. If you want perfection just buy the saw alone and get festool rails for it
By Janet
New Jersey
April 21, 2015
Easy Peasy - Makita SP6000J1
exactly as advertised, easy to set up and use, buy the clamps-they're worth it!
By V Hartford
Fremont ne.
March 20, 2015
Omg wish I'd bought this years ago!
This is really a unbelievable little saw. Easy to use and track stays put. I've cut off doors, ripped 3/4 inch solid oak extension jambs. Cut ply. Still getting used to it but very happy. A couple parts could have been slightly heavier made but seem to be adequate .
Pros
Smooth and true. Plenty of umph. Track stays put without clamps. Very safe, blade retracts quickly. Brakes fast as well.
Cons
Detent button for your shallow cut is made of soft rubber and pulls off easily. Wish cord was longer. Still has a little dust out side with vacuum attached but not terrible, little clumsy with 2 1/2 inch vacuum attached. Better with small hose.
By SD
North Carolina
November 27, 2013
Fast and accurate cutting of sheet goods
Could not justify the expense of the Fe$tool track saw and after quite a bit of research settled on the Makita. Tested out of the box on furniture grade 3/4" Cherry ply and with the scoring function (1 pass at 2-3mm, 1 pass all the way through) it cut with zero tearout on either side. On MDF, sanded pine, etc. you can skip the scoring pass and still get a virtually tearout free cut.
Pros
Price Quality of cut Lightweight
RELATED ITEMS
Check out the rest of our...
Our Customers Are Saying...