Makita XCU03Z 18V X2 LXT Li-Ion Brushless Cordless 14" Chain Saw Tool Only
Makita XCU03Z 18V X2 LXT Li-Ion Brushless Cordless 14" Chain Saw Tool Only
Expand all tabs
Collapse into tabs
The XCU03Z includes:
1x Makita XCU03PT 18V X2 LXT Lithium-Ion (36V) Cordless 14" Chain Saw (5.0Ah)
1x Makita 165246-6 14" Guide Bar, 3/8", .043"
1x Makita 196741-5 14" Saw Chain, 3/8", .043"
1x Makita 419242-9 14" Chain Cover
Highlights:
Makita-built Outer Rotor BL Brushless Motor direct-drive system provides high power efficiency equivalent to gas chain saw
Variable speed trigger and high chain speed (0-3,940 FPM) for improved cutting performance
"Tool-less" chain adjustment for quick and convenient chain adjustment
Built-in lock-off lever helps prevent the chain from accidentally engaging
Built-in L.E.D. on/off switch with auto power-off function; automatically shuts the saw off when operation is delayed for extended battery life
Two 18V LXT Lithium-Ion batteries (not included) deliver power and performance without leaving the 18V LXT platform
Front hand guard engineered to actuate chain brake when engaged
14" guide bar for increased capacity
Landscapers and contractors are demanding more cordless alternatives to corded and gas-powered outdoor power equipment. Makita is meeting demand with an expanding line of cordless OPE, including the 18V X2 LXT (36V) Brushless Chain Saw Kit (model XCU03PT). With zero emissions, lower noise, and considerably less maintenance, the XCU03PT is a welcome solution for cutting and trimming applications. It's powered by two 18V LXT batteries for 36V power and run time, but without leaving the strongly-preferred 18V battery platform. And with the efficient Makita outer rotor brushless motor with direct drive system, users get high power efficiency that is equivalent to a gas chain saw.
The XCU03PT has a 14" guide bar and the Makita-built motor with variable speed delivers 0-3,940 FPM for increased cutting speed, but with less noise (only 100dB(A)). It has zero emissions and reduced maintenance: there's no engine oil to change, no spark plug to replace, and no air filter or muffler to clean. And there's no need to drain the fuel for storage. Simply pick it up, load two 18V LXT Lithium-Ion batteries, and the saw is ready to use. Convenience features include a "tool-less" chain adjustments, a front hand guard engineered to actuate chain brake when engaged, an electric brake for maximum productivity, and more.
It's part of Makita's expanding 18V Lithium-Ion system, the world's largest cordless tool system powered by 18V Lithium-Ion slide-style batteries. Makita 18V Lithium-Ion batteries have the fastest charge times in their categories, so they spend more time working and less time sitting on the charger.
For improved tool performance and extended battery life, Makita created Star Protection Computer Controls. Star Protection is communication technology that allows the Star Protection-equipped tool and battery to exchange data in real time and monitor conditions during use to protect against overloading, over-discharging and overheating. For increased versatility, the tool can also be powered by Makita 18V LXT and Compact Lithium-Ion batteries with the star symbol on the battery indicating Star Protection inside.
Features
Low noise level and zero emissions for operator comfort
Weighs only 11.5 lbs. with batteries for reduced operator fatigue
Features Extreme Protection Technology (XPT) which is engineered to provide increased dust and water resistance in harsh job site conditions
Electric brake for maximum productivity
Rubberized soft grip top handle is engineered for the user to more easily apply even cutting pressure
Large oil filling port with view window allows operator to easily add and check bar oil level
Adjustable automatic chain lubrication with large oil reservoir
Dual Port Charger charges two 2x 18V LXT Lithium-Ion 5.0Ah batteries (not included) in only 45 minutes
Dual Port Charger features a built-in USB port for charging portable electronic devices
The Makita Rapid Optimum Charger communicates with the battery's built-in chip throughout the charging process to optimize battery life by actively controlling current, voltage and temperature
Built-in fan circulates air through the battery during the charging process to cool the battery for faster charge time.
3-year limited warranty on tool, battery and charger
Only use genuine Makita batteries and chargers
Tech Specs:
Brand: Makita
Model: XCU03Z
MPN: XCU03
UPC: 088381838917
Type: Cordless Chainsaw
Guide Bar Length: 14"
Chain Speed: 3,940 FPM
Chain Pitch: 3/8"
Chain Gauge: .043"
Battery: 2X 18V LXT Lithium-Ion
Overall Length: 30-1/2"
Net Weight (with battery): 11.5 lbs.
Shipping Weight: 18.9 lbs
Package Qty.: 1
MAKITA 18V X2 LXT (36V) Brushless 14" Chain Saw Kit (XCU03PT, XCU03Z) Product Video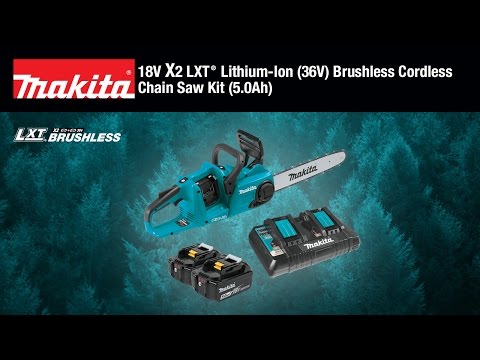 Video will open in a new window
Makita Celebrates 100 Years of Innovation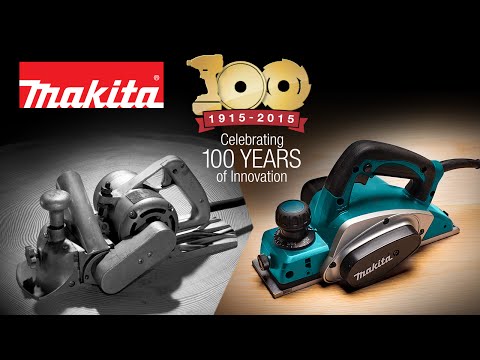 Video will open in a new window
Check out the rest of our...
Our Customers Are Saying...