Metabo 631343000 2-3/4" Dust Extraction Accessory
Metabo 631343000 2-3/4" Dust Extraction Accessory
Expand all tabs
Collapse into tabs
The 631343000 includes:
1x Metabo 631343000 DDE 72 2-3/4" Dust Extraction Accessory
Highlights:
Dust extraction adapter for extracting drilling dust at the hole entry point
Safe and dust-free drilling in walls and ceilings
The 2-chamber system and the foam rubber gasket keeps it attached to almost all (even uneven) surfaces, such as plaster, natural stone, and woodchip wallpaper. Minimal drill dust residue on walls and wallpapers.
The adapter is attached to the existing suction hose. The negative pressure of the vacuum cleaner keeps the adapter to the respective subsurface.
Come with 2 vacuum hose adapters: 1 threaded and 1 friction
Drill cleaner and reduce airborn dust particles with the Metabo DDE 72 Dust Extraction Accessory. It is suitable to use with drill bit sizes up to 2-3/4".
Since 1972, Metabo has offered in the United States, Premium German engineered power tools for the industrial and professional markets. Our strategy focuses on serving the Industrial Metalworking, Building Trade and Renovation, MRO, Concrete finishing and welding supply markets, which we serve though Industrial, Construction and specialty distribution. And Tools Plus has made it their business to consistently and efficiently market the Metabo brand and convey the tradition of excellence. Tools Plus is known as the leader in the online and retail power tool market, and we are proud of the strong relationship we have established and continue to maintain with the Metabo brand.
Tech Specs:
Brand: Metabo
Model: DDE 72
MPN: 631343000
UPC: 4007430282835
Type: Dust Extraction Accessory
Drill Bit Size: 2-3/4"
Package Qty.: 1
Metabo DDE 72 631343000 2-3/4'' Dust Extraction Accessory Product Video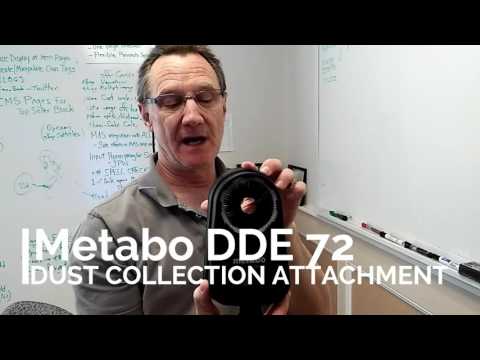 Video will open in a new window
Check out the rest of our...
Our Customers Are Saying...