Wilton 10010 ATV 6" All Terrain Truck Vise
Wilton 10010 ATV 6" All Terrain Truck Vise
Expand all tabs
Collapse into tabs
The 10010 includes:
1x Wilton JNA 1214 10010 ATV 6" All Terrain Truck Vise
1x Mounting Bracket
Highlights:
Mount this truck vice on Class III or IV truck hitch receiver for an instant work area
Large striking anvil for forming and shaping materials
Ideal working height doesn't interfere with truck bed or tailgate.or ATV
Jaws are replaceable and include a v-groove for vertical clamping of round objects.
Pipe jaws clamp round objects from 3/4" - 3"
Designed with a 360 degree locking handle
Water resistant for all weather protection
Lifetime warranty
Some jobs go beyond the workshop. Some jobs make you come to them. For the jobs that demand function, strength and mobility we present the ATV All-Terrain Vise by Wilton. The innovative ATV is a hitch vise and a bench vise all in one portable package. It's ideal for vehicles used in construction, farm and ranch, automotive, marine or those dedicated to outdoor and off-road activities.
For all Wilton warranty issues, please visit thier warranty site.
Please Note: The boss has a Wilton ATV vice installed on his 2014 Ford F150, and it does NOT interfere with his back up sensors. Sensors operate normally with no interference from the vice.
Tech Specs:
Brand: Wilton
Model: JNA 1214
MPN: 10010
UPC: 731325294606
Type: Vise
Length: 19.25 in.
Width: 6 in.
Height: 7.25 in.
Weight: 39.6 lbs.
Clamping Force: 1 Ton
Finish: Powder Coat Enamel
Hitch Receiver Size: 2 in. Square
Jaw Insert Hardness: 45-56 HRC
Jaw Travel: 0.15 in. (4mm) Per Rotation
Jaw Width: 6 in. (150mm)
Max. Opening Capacity: 5-3/4 in. (145mm)
Pipe Jaw Capacity: 3/4 in. - 3 in.
Throat Depth: 5 in. (127mm)
Package Qty.: 1
Wilton JNA 73 10015, JNA 1214 10010 6" ATV All-Terrain Vise Product Video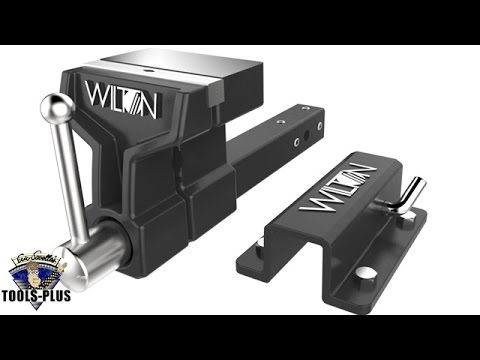 Video will open in a new window
RELATED ITEMS
Check out the rest of our...
Our Customers Are Saying...